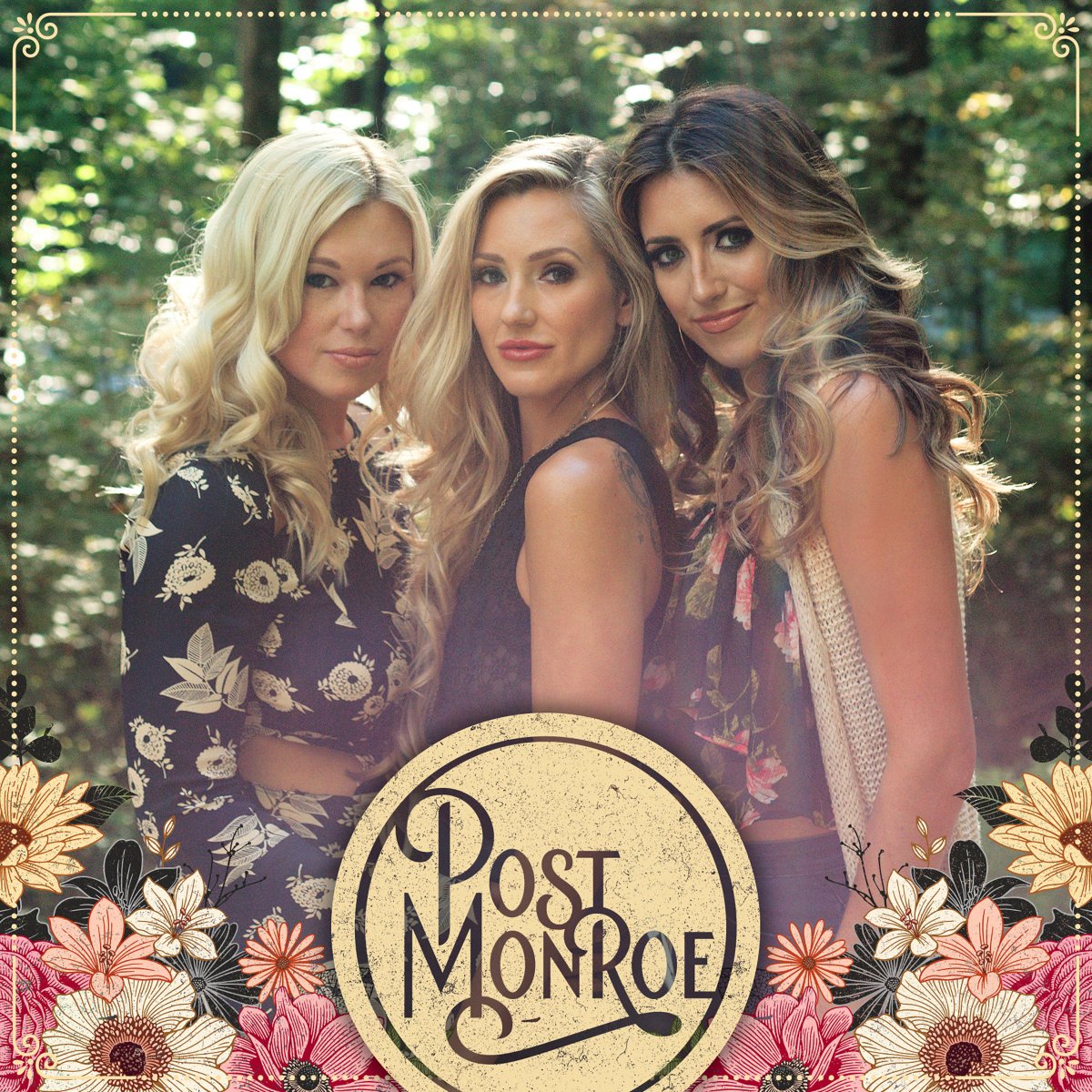 Artist: Post Monroe
Album: Post Monroe EP
Label: KCH Entertainment
Release date: May 13, 2016
Ashlee Hewitt, Whitney Duncan and Shelby McLeod meld their distinct voices, backgrounds and life experiences together to create Post Monroe.
"Our sound is our voices,"
Ashlee explains.
"They're different. They're unique. The blend of them together makes Post Monroe what it is."
Their debut single and EP is produced by Grammy Award winning Dave Haywood of Lady Antebellum and Chuck Ainlay.
"I have had such an amazing time being on the production side of the music-making process with Post Monroe. I truly believe that these girls are the real deal – from the writing room to the studio – they have a unique perspective and fresh sound that I can't wait for people to hear," says Haywood.
The songs themselves are extremely important to the songwriting threesome.
"Most the time when we're writing it's like a therapy sessions, where someone shares something that's happened to them and it's like, 'Well, that's the hook!'"
Ashlee says.
"We are strong women and we're vulnerable,"
Shelby adds.
"There are many sides to every woman. We like writing songs that speak from all those sides."
Each member can approach a song or idea from a different perspective. Ashlee is married with a three-year-old son, Tuff, while Whitney is newlywed and Shelby, the youngest, is still living the single life.
"We're all in different places but also similar at the same time,"
Whitney explains.
Ashlee grew up on a farm in Lancaster, Minn. — "way up by Canada" — and started singing at the age of three. Between the ages of 13 and 18, she played nearly 150 shows a year across Minnesota and North Dakota. "I knew I wanted to do music so I just packed up and came to Nashville," she recalls of the move she made at 18.
Whitney is a native of Scotts Hill, Tenn., and grew up visiting Nashville. She played the fairs and festivals circuit as well and began coming to Nashville at the age of 15 to write with the city's elite songwriters. "I'd skip school and my dad would bring me to Nashville and then turn around and go to work," Whitney remembers. "It was a two-hour drive and he'd drive again to get me after work." Like Ashlee, Whitney pursued a career as a female solo artist before realizing their dream to start a band.

Shelby was raised in Madison, Ga., and spent her childhood singing and doing musical theatre. While she hoped to move to Nashville after high school, her father — who she admits is her "hero" — insisted she go to college. Four years later, after graduating with a degree in communications, Shelby moved to Music City and within two months she landed a job working for Reba McEntire's Starstruck Entertainment. "I wanted to get a job in the industry to learn and go in the back door like everybody does," Shelby admits. "Oh, I'll slip through and someone will love me. I learned so much and I loved working there."

But her plan worked. It was that job that brought Shelby to her future bandmates. Whitney and Ashlee had met through a mutual friend and discovered their mutual love for songwriting and desire to start a trio. "I met Shelby at Starstruck and I didn't know she could sing, I just thought she was gorgeous," Whitney recalls. "Then a friend told me she could sing and we brought her in for a meeting and all sang together … it was magic." "When we got the first demo back, everyone was in awe," Ashlee adds.

The trio adopted a name that Ashlee had been holding on to for quite a while. "I was living in L.A. in 2008 and I heard someone describe a fashion style as Post Monroe … after Marilyn Monroe," she explains. "Immediately, I was like that sounds like a band name! I went and got all the social media and websites and everything and blocked them."

"I love Marilyn Monroe and her timeless beauty but I think it's nice to leave it open for interpretation, too," Whitney says. "In country music, we have Bill Monroe. There are some great Monroes."
1. Half Hearted
2. Lucky One
3. Red Hot American Summer (Post Monroe, Blair Daly)
4. Dixie Dust (Post Monroe, Dave Haywood, Dave Thomson)
5. Hell on Me