Lots and lots of music videos out the last couple of days- would be interested to know if you have any favorites. And item number one on today's list will certainly be on my Christmas list.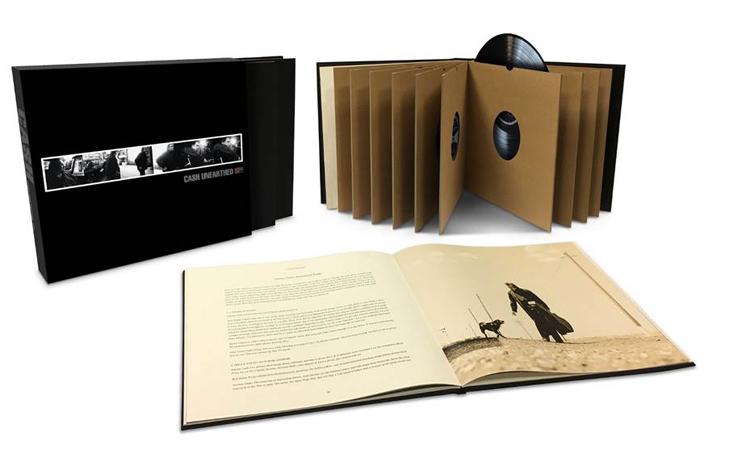 -
Johnny Cash
's much-acclaimed box set of primarily unreleased material,
Unearthed
,
is to be reissued as a nine-album vinyl box set on November 3, 2017
. To celebrate the Man in Black's enduring and influential legacy, American Recordings and UMe have reconfigured this monolithic collection for its first-ever vinyl release, spreading
Unearthed's
79 songs over nine high-quality 180-gram vinyl LPs while expanding the original box's distinctive packaging for the long-playing format. The
Unearthed
vinyl box features a pair of cloth-bound books housed in an LP-sized black cloth slipcase. One book holds the nine LPs, while the other is a gorgeous 60-page coffee table book that incorporates Sylvie Simmons' extensive liner notes, drawn from five days of interviews at Cash's home in Tennessee, as well as Cash and Rubin's comments on every song on the set, plus a copious selection of photographs from the recording sessions, including some of the last photos ever taken of Cash.
Unearthed
was originally released as a CD box set by producer
Rick Rubin
's American Recordings in November 2003, two months after the country superstar's passing.
- After 2000's
Classics
and 2015's
Classics 2
,
John Conlee
is prepping to release Classics 3 on November 17
on his own Rose Colored Glasses label.
- The Bottom Live Archive (a Northeast nightclub that recorded thousands of performances from the early 80's to the mid 90's)
is releasing Harry Chapin: The Bottom Line Archive Series
from a performance Chapin did in 1981.
-
Steve Martin and the Steep Canyon Rangers
went by NPR and
did a Tiny Desk Concert together
. Martin's in rare form like normal.
-
Shania Twain
released a new music video
for "Swingin' With My Eyes Closed."
-
Kenny Chesney
released a new music video
for "Young."
-
Danielle Bradbery
released a new music video
for "Hello Summer."
-
Becca Mancari
released a new music video
for "Golden."
-
Jenna Paulette
released a new music video
for "Coolest Girl in the World."
-
Jarrod Dickenson
released a new music video
for "Take It From Me."
- The
Kenny Shepherd Band
released a new music video
for "Nothing But The Night."
-
Willie Watson
premiered a new music video
for "Gallows Pole."
-
Paul Cauthen
released a new music video
for "Saddle."